1048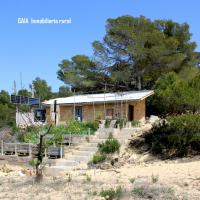 Ref: 1048 RESERVED
MAELLA - ZARAGOZA
Rustic house: 20000m2
House: 30m2
Sale
Price: 29.000€
MAELLA- ZARAGOZA
REDUCED PRICE FROM 35.000 € TO 29.000 €!
Ref: 1048
AN APPOINTMENT WITH NATURE. CHARMING COUNTRY HOUSE, ALMONDS THREES, VIBRANT LANDSCAPES, SUN, PRIVACY AND PEACE.
Property of two hectares (20.000 m2), plus one hectare incorporated. There is cultivation of almonds trees and there're some young olive trees. The country house (mas) has been restored by a good craftsman, has a large window, fireplace, outdoor shower, terrace with spectacular views of hills, forest, rocks, pines. There is possibility to expand. The place is ideal for lovers of nature, meditation, self-sufficiency and access to the property is by gravel road in good condition. To access the property, an all-terrain car is needed. The property is located 6 kilometers away from the town of Mazaleon and 12 kilometers from Maella; two hours from Barcelona and an hour and a half from Zaragoza.